Reef Rainforest & Outback - Guided Motorcycle Tour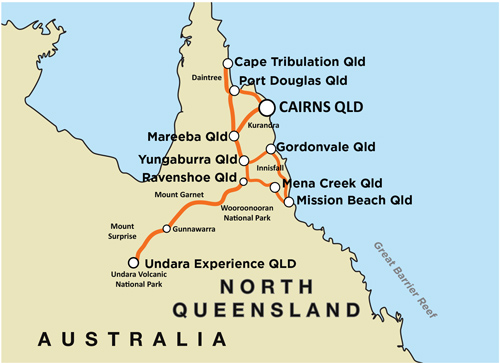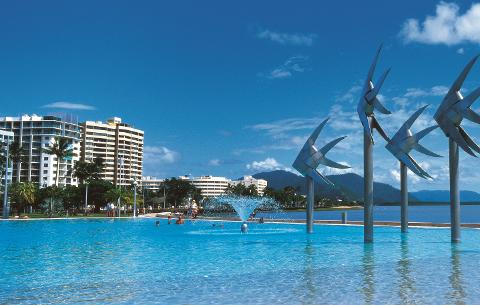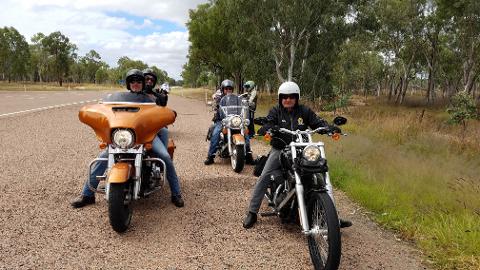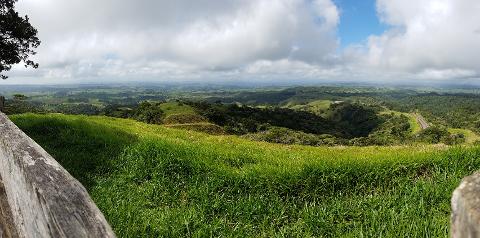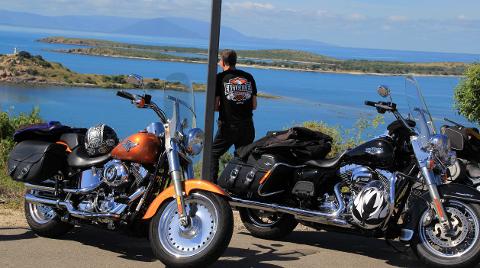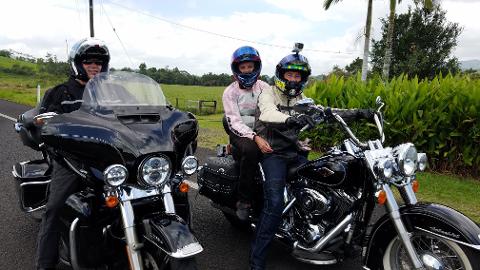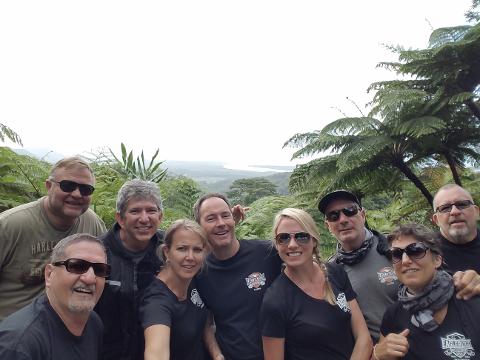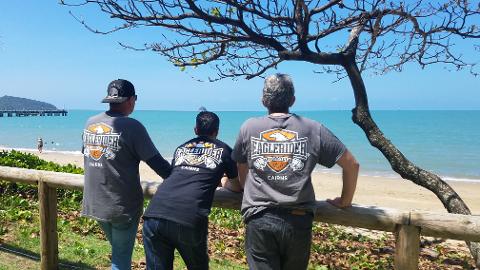 Reef Rainforest & Outback. You will enjoy the variety that fabulous North Queensland has to offer. Overnight in several locations overlooking the tranquil Coral Sea. Visit waterfalls and crystal clear lakes. You can Snorkel the Great Barrier Reef. You will travel west to the Queensland outback. Walk in the lush World Heritage listed Daintree Rainforest. This is just a taste of what you will experience when you ride the Reef Rainforest & Outback Tour.

From the Reef to the outback, through ancient tropical rainforest and vast savannah grasslands, riding in North Queensland with its ever changing landscapes is an unforgettable experience with natural wonders around every corner.

The variety of scenery on this tour will amaze. You will ride into the Queensland Outback discover the Undara Lava Tubes and meet unique wildlife like Kangaroos and Kookaburras in their bush home. The ride on the Captain Cook Highway between Port Douglas and Cairns is one you will talk about for years with rainforest covered mountains on one side and the waters of the Great Barrier Reef on the other.
It's not all about the ride. If you like exploring palm fringed beaches, visiting postcard perfect crystal clear waterfalls, journeying through the world's oldest surviving tropical rainforest to see endangered cassowary and then go sailing on the Great Barrier Reef than this tour is for you.

8 Days / 8 Nights
Distance: 770 Miles / 1235 Kilometres
Seasons: Spring, Summer, Fall
Temp: 16°C - 32°C or 60*F - 90*F
2 People/1 Bike/1 Room - $3,905 P/P
2 People/2 Bike/1 Room - $4,965 P/P
1 Person/1 Bike/1 Room - $6,888 P/P
Departure Dates
May 17th 2018
July 19th 2018
September 20th 2018

*B = Breakfast *A = Attraction *D = Dinner

DAY ONE: Arrive Cairns 0 kms


Once you arrive in Cairns, you will have time to explore this beautiful tropical city, lay around the pool and take it easy before joining your EagleRider team and fellow riders that evening for a welcome drink and introduction to your tour. We will meet at 6.00pm at the hotel bar.
DAY TWO: Cairns - Undara 300 kms (B) (D)


This morning you will be transferred to the EagleRider location to pick up your bike and depart Cairns. Today we travel part of the Great Inland Way in the North Queensland outback. Enjoy authentic outback hospitality, discover the Undara Lava Tubes and meet Aussie Wildlife in its bush home. The Undara lava tubes are considered the largest and longest on the planet. Undara is a unique and different outback experience.

Tonight's accommodation- Beautiful restored turn of the Century Railway Carriages.

DAY THREE: Undara - Malanda 215 kms (B) (A)
After a bush breakfast we start our excursion of the Lava Tubes. This afternoon we enter the region of tropical North Queensland which has rightfully earned its reputation as one of the most beautiful and diverse localities to visit in the world. While here you'll be spoilt for choice. Food, Wine, Cheese Chocolate or just Stunning views! Breathtaking waterfalls, deep crater lakes, colourful farmlands and rich savannah plains set the scene of the Atherton Tablelands.
DAY FOUR: Malanda – Mission Beach 150 kms (B) (A)


Today we head south on a road that the local call the Highway to heaven. We will visit Millaa Millaa Falls probably the most photographed water fall in Australia. Next we will detour off the main highway to visit Mena Creek Falls and Paronella Park, a Spanish style castle built in 1935. Spend some time on a guided walk and learn the history of this fascinating place in the rainforest. Once you've reached your destination Mission Beach you'll be ready to kick off your boots and relax.
DAY FIVE: Mission Beach to Yungaburra 190 kms (B)


We make our way north with a stop at scenic Josephine Falls, the waters descend from Mount Bartle Frere Queensland's highest mountain. We climb 800 metres on the Gillies Range with 263 corners to negotiate before reaching the top. You will notice the temperature drop, the air become fresher, and encounter spectacular lookouts along the way which enables you to take in the view of the valleys deep in the Great Dividing Range, you will arrive at your destination Yungaburra
.

DAY SIX: Yungaburra – Port Douglas 130 kms (B) (A)


Today is a short but interesting ride to Port Douglas. This afternoon you will board a luxury sailing catamaran and enjoy The Great Barrier Reef with this first class pure sailing experience. The afternoon cruise incorporates a reef and island cruise. Explore this protected Coral Cay, with white sandy beaches and coconut palms, surrounded by magnificent coral gardens and the Coral Sea. Just relax on the island, join the guided snorkel tour, take a trip on the glass bottom boat or laze on deck before an exhilarating sunset sail back to Port.
DAY SEVEN: Port Douglas - Daintree 140 kms (B)

Today we venture into the rainforest of the World Heritage listed Daintree National Park. We cross on the Daintree River Ferry to follow the coastal road to Cape Tribulation. You will enter a journey of discovery through woodlands and rainforest where you can see an array of wildlife, including beautiful tropical birds, reptiles, insects and other native fauna.
DAY EIGHT: Daintree - Cairns 110 kms (B) (A) (D)
Today you embark on your final day. You will travel south on the Captain Cook Highway Its magnificent ocean views and spectacular mountain scenery make it one of the best drives in the country. There are several lookouts along the road side for those last chance photos. Several beach side communities such as Palm Cove & Trinity beach are worth a detour. Your journey today ends in tropical Cairns. This evening we will get together for our farewell dinner. (Let's party) If you wish to stay a few more days we would be happy to extend your accommodation and bike hire for you to experience some of the many attractions that beautiful Cairns has to offer.
DAY NINE (B)
Today your tour comes to an end after breakfast.
We trust you have enjoyed your journey with EagleRider Cairns.
We wish you safe travels home. Until next time – Ride Safe!
What's Included
Hotel Accommodation
Motorcycle Rental
Fuel & Oil
Welcome and Farewell Dinner
Helmets for Driver and Passenger
Daily Breakfast
Tour Leader
Support Vehicle equipped with spare bike and room for additional luggage
Hotel Parking fees
Transportation between hotel & EagleRider location.
Admissions to:- Paronella Park - Undara Experience – Sailaway Great Barrier Reef Experience Daintree River Ferry Crossing.


What's Not Included
Airfare
Food & Snacks
Meals (except for welcome & farewell dinner & daily breakfast)
Snacks & Beverages
Personal souvenirs
Insurance excess
Please Note: North of the Daintree River there is limited mobile phone coverage